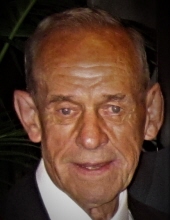 Obituary for Roland "Doc" Piehler
Roland E. "Doc" Piehler, of Wexford, PA died peacefully on October 16, 2019, at the age of 90. He was born in Merrill, Wisconsin on January, 24, 1929, the son of the late Rev. Walter and Irma (Dassow) Piehler. After attending Valparaiso University, he served as a Staff Sergeant in the United States Air Force from 1951 to 1955, where he earned the nickname "Doc" from his friends on the baseball team. Doc married Kathryn Arndt on June 5, 1954 in Dayton, Ohio. Doc, Kathryn and their five children eventually settled in Pittsburgh. He worked for Household Finance for twenty-seven years as a Regional Manager. Gregarious, caring and quick with a joke, Doc spent his favorite moments cooking for his family, holding court at Cole's, rooting for the Steelers, and spending time with his many lifelong friends. Doc will be remembered as the cornerstone of his large, loving and close-knit family, all of whom are so grateful for the many years of love and wisdom he gave as a husband, father, father-in-law, grandfather and friend.
He is survived by his wife Kathryn; his five children, Paula (Steve), Kirk (Becky), Scott (Cathy), Mark (Sue) and Gary (Tion); his eleven grandchildren, Christopher (Megan), Elizabeth (Evan), Nan, Kyle, Kayla, Greg, Abbey, Reid, Brent, Tyla and Garin; two great-grandchildren Christian and Magnolia; and his siblings Grayce and James. Friends who want to honor Doc's life can make memorial contributions to the Greater Pittsburgh Community Foodbank. A service celebrating Doc's life will be announced in the future.
Memorial Contribution