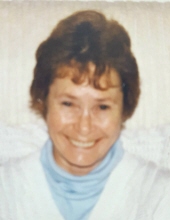 Obituary for Rita Jane Haberlach
RITA JANE HABERLACH (nee Bontjes) born in Barry, Minnesota on October 13, 1934, passed away June 19, 2019 peacefully at the age of 84. Loving Wife, Mother, Sister, Grandmother and Great-grandmother. Survived by her sister, Mary Beckerleg; six children Michael (deceased), Ann George, Kurt, Susan Walsh, William, and Karl; five grandchildren Dominic Agrellas, Matthew, Courtney George, Christine George and Catherine Trudeau; and one great grandchild Natasha Smalianchuk. Predeceased by her husband: Leo Sabastian Haberlach, father Bontje Joseph Bontjes, mother Alice Smithwick Bontjes, brothers Joseph, Donald, and Vincent, and sisters Anne Busby and Kathleen Auer.

Rita was always an avid reader, intellectually ahead of her time, and a forward thinker. She was a political activist and held many global views. She enjoyed sewing, traveling, camping, and spending time with her children, grandchildren and great-grandchild.

Rita will be buried next to her husband at Hillside Cemetery in Issaquah, Washington on June 27, 2019.

Donations to Catholic Relief Services, https://support.crs.org/donate/, will be gratefully appreciated.